This hostel here is We Bangkok one of the most fun hostels in bangkok a chill out party one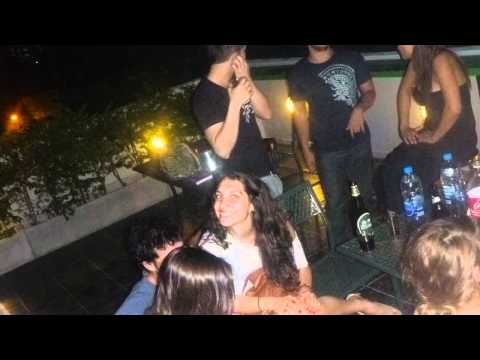 People
1. In Hotels you normally meet older type of crowd and families.     If you looking for fun and younger crowd hostels are way to go.    My fellas if you have just a bit of game in a decent hostel I will say no more.
2.  If you are solo traveler and young its almost like why would you not.    You get meet people so easily and especially if you are in smaller type hostel.
3.  When people go out at night people a lot times tend to go out in groups.
4.   The kind of parties that can start in hostel can sometimes be nothing less than legendary.

PRICE
1. There is no cheaper way to travel other than free.
2.  even if you get a private room generally speaking it cheaper than local hotels but not always
Accommodations
1. I won't lie I am bit of a diva and I am not staying in any sh#thole if I can help it.    If you are staying  pretty much anywhere in asia they have decent hostels or guesthouses with hot showers, decent beds and good security.   Not once in 7 months in southeast asia while staying in hostel or guesthouse did not have access to warm shower and decent mattress.
2.   As you will see in videos above and below they have some very high quality hostels around asia especially in bangkok.
3.   You often have locker spaces where you can lock up your valubales but always bring your own lock.  Also bring own towel if you dont want to pay for rental which normally pretty cheap.
4.  Most places have private rooms if don't want to share a room with just a bed.   So if you have girlfriend etc you can have your boom boom sessions in private
.
Locations
1. A lot times you can find hostels in PRIME areas of town so for example if you paying paying $10 a night for bed and cheapest hotel around is $50 a night in area like sathorn silom area of bangkok.
2. Normally very easy access to public access or they help arrange travel.
3. Even if you just stay hostel for few dayss and move to hotel or apartment you can still be close hostel and know people there. I pretty much always move bach pads so I can host pool parties etc.
Staff
1. They are locals of town most of the time and the 411 aka info on everything .
2. Owners are normally around so they care about what happens and your experience
3.  Basically anything you need help with in city apartment finding, visa help etc they got your back.
Atmosphere
1.  Depends greatly on where you stay  " Check reviews on hostelworld"
2.   Most are pretty laid back and chill, not all are party places which I found out.
3. People always talking to you, so I often I am in my room etc  when I am doing work, or  keep my headphones they mean " FU#K OFF" don't talk to me.
Where to book Hostel.
1. You have Hostelworld.com  or hostelbookers.com
Here  is sapahpaie the luxury hostel in bangkok  I stayed here when first arrived in bangkok  and overall in 7 months spent over a month and half here